Some restaurants do every meal well, but one meal especially well. TJ's Country Kitchen is one of the more highly-regarded eateries in Fort St. John. While lunch and dinner there are definitely good, it's breakfast where this restaurant earns all its stars. A good many locals regard it as the 'place to go' for breakfast in the city, and you can expect to get your fill of good food and not be left too light in the wallet after.
Spots like TJ's join the list of quality Fort St. John restaurants, and the numbers of them around town definitely help to spur interest in Fort St. John real estate.
It's located at 10688 Alder Road in Fort St. John, and it's definitely a restaurant that goes long on atmosphere and simple sensibilities and short on pretentiousness. The place isn't fancy, and the staff are down-to-earth people, but the food is – simply put – darn good.  Every day you'll see the daily dash lunch special (for take out), the sit-down lunch special, and the always-delicious soup of the day choice.
As mentioned, this is one of the best breakfast restaurants in Fort St. John. For those who are super hungry after rising and shining, the Hungry Man breakfast may be just what you need. It comes with your choice of 3 pancakes, 3 French toast, or 3 eggs plus 3 strips of bacon, 3 links of sausage, and a large serving of shredded hash browns. Plus, breakfast is served until 1:30 in the afternoon and many customers will choose to have a breakfast skillet for lunch. The Turkey Cranberry Monte sandwich is an especially good choice any time of the day.
They have a 'Kiddie's Corner' menu too, and any and all inquiries about TJ's Country Kitchen are welcome at (250) 787 – 7777. If you're in Fort St. John, and you have a hankering for homestyle cooking then this is where you need to be.
Contact Information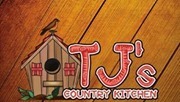 Phone: 250.787.7777
Website: TJ's Country FB Page
Business Hours
Monday – Sunday: 6:00 a.m – 2:00 p.m
*Please note that business hours may not be up
to date due to seasonal changes. For current business hours,
please check Google.
Address: 
10688 Alder, Fort St John, BC V1J 4J2