Savoury is the word that fits best when discussing foods from the Mediterranean region. One needs look no further than the Tzatziki sauce that adds zing, either inside your donair or there for dipping with your calamari. For Mediterranean food in Fort St. John, there's no better spot than the Olive Tree Mediterranean Grill.
In addition to delicious food, they also have a large family-friendly dining area and you'll nearly always be seated immediately upon arrival. Places like the Olive Tree and all the other good eateries here go a long way in promoting the popularity of Fort St. John real estate.
The Olive Tree is located at 10120 100 Street in downtown Fort St. John, and is open from 11AM – 8:00PM Monday to Saturday. And speaking of donairs, theirs are absolutely the best and in addition to a number of different choices you can also watch the lamb, beef, and chicken being shaved right off the spit in front of you. It definitely adds to the experience in a big way, and definitely heightens your appetite!
The Caesar salad wrap at The Olive Tree is especially good too, and their homemade pita bread is a big part of that. But if you were to ask regular patrons what they like most about this restaurant in Fort St. John is that there's real value to be had, with large portions of food to be had for very reasonable prices.
The Olive Tree also has non-Mediterranean dishes on the menu from time to time. Two of the most popular non-Mediterranean dishes are chicken taco salad and Indian butter chicken. Plus, French fries on the side of your donair? Absolutely! And last but not least, they have a soup of the day too.
Vegetarian and gluten-free options are on the menu as well. For reservations or take out orders you are encouraged to call (250) 785-9978.
Contact Information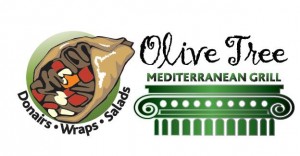 Phone: 250.785.9978
Website: Olive Tree FB Page
Business Hours
Monday – Saturday: 11:00 a.m – 8:00 p.m
Sunday: Closed
*Please note that business hours may not be up to date due to seasonal changes. For current business hours, please check Google. 
Address: 
10120 100 St, Fort St John, BC V1J 3Y7