If you're a person who really enjoys good brews and good grub then Browns Crafthouse is the place to be if you're in Fort St. John. It's located at 8411 93 Street in Fort St. John and is where the London Bull used to be. Solid spots for eating out and socializing like Brown's contribute to making Fort St. John real estate increasingly popular.
Browns Crafthouse is a part of the Browns Restaurant Group, and like all of the other ones across British Columbia, the restaurant in Fort Saint John can be relied on for good food and drinks and great service from the friendly staff.
Browns Crafthouse Fort St. John also has happy hour deals every day, and regular social media contests where entrants can win gift cards for the restaurant. Plus, they have all-day breakfast items, starting at 11 am every day of the week. Mimosa towers set upright on your table are always a hit with groups of ladies
NHL Hockey Night in Canada is a priority every Saturday night, and NFL football on all the big screens all day on Sundays. And to add to all the goodness, the Browns franchise is always involved in supporting community initiatives, including a recent fundraiser for the Fort St. John Women's Resource Society.
You can make a reservation at Brown's Crafthouse in Fort St. John by calling (250) 785 – 4464 and they're available for private functions as well.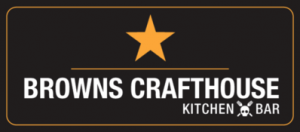 Contact Information
Phone: 250.785.4464
Website: brownscrafthouse.com
Business Hours
Sunday – Thursday:  11:00 AM– 11:00 PM
Friday – Saturday:    11:00 AM– 12:00 AM
*Please note that business hours may not be up 
to date due to seasonal changes. For current business hours, 
please check Google.
Address: 
8411 93 St, Fort St John, BC V1J 6Y3